6-yard skip
If you're looking for a 6-yard skip, then you needn't look any further than Skip Hire UK's reliable skip hire service. To ensure that your project can advance at the speed it needs to, you need to have a dedicated, enclosed area to leave all the waste that your work creates.
All you need to know about a 6-yard skip
When a 4-yard skip just isn't big enough, don't panic, Skip Hire UK have the solution for you. Our 6-yard skips offer customers the perfect way to store their waste when carrying out those medium-sized domestic projects that generate that little bit more waste.
How much does a 6-yard skip hold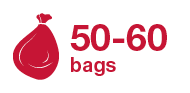 What type of project is a 6-yard skip suitable for?
Domestic refurbishments
Home clear-outs
Medium construction or destruction work
Office and retail clear-outs
Dimensions
Length: 260cm (102") x width: 170cm (67") x height: 107cm (42")
Please note: all skip and container sizes are approximate and may vary depending on the supplier.
Where can it go?
Being one of our smaller skips, the 6-yard skip is very easy to load, making your project that bit easier. The 6-yard skip is a reasonably accessible product that will fit in most driveways. If you don't have the option of placing your skip on private land, Skip Hire UK can assist you in acquiring a temporary permit that will allow you to place your skip on the public highway . Please get in touch today for more help and guidance in acquiring this permit.
Why choose Skip Hire UK?
Low cost, hassle-free skip hire
Fast and reliable delivery
Swift collection, whenever you're ready
Friendly and helpful customer service
You may also be interested in…