Clearing Out The Kitchen: Your Kitchen Renovation Guide
Planning a kitchen renovation can be just as daunting as it is exciting. You may find you don't know where to start, or how to even plan your project, so you need a helping hand. Fear not, SkipHire UK are here to help, with this quick and easy to follow Kitchen Renovation Guide to help plan kitchen renovation.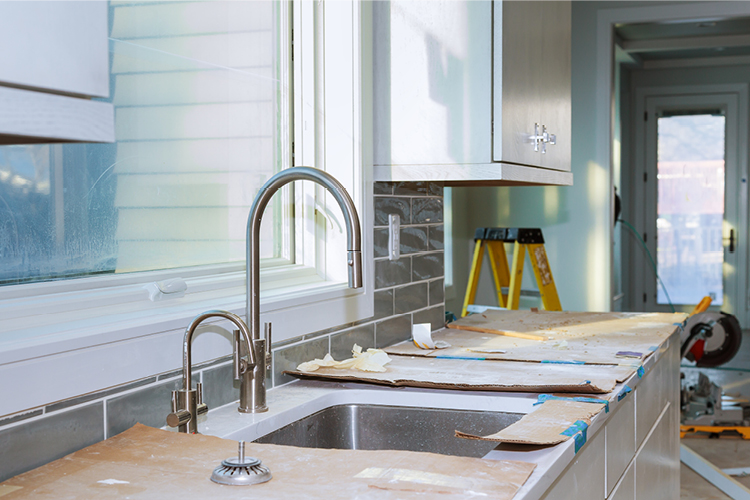 Will You Need A Hand?
First thing to consider when planning a kitchen renovation, is if you are going to need a hand. Renovating a kitchen can be a strenuous task, much like all DIY work, so you need to know if you are fighting fit and ready to take on the project. If you are looking for help, you have many options, one of which is a Man & Van service. The Man & Van service is the perfect option when you are struggling with the manual labour involved in loading a skip, so considering your capabilities can almost definitely impact your service choice.
How Long Will It Take?
Next question to ask yourself, how long is your kitchen renovation going to take?
The key to planning for your renovation is knowing how long you have. Like with anything in life, knowing your deadline is key and can impact your schedule massively. If you do not consider how long the renovation is going to take, you could find yourself with a half finished kitchen that gets under your skin, similarly, if it's done too quickly you may have been able to squeeze another summer project in!
Segregate Your Waste
Knowing what waste streams there are and where your waste fits in is always a task, it can also dictate what service you need to book. Our skips will collect almost any waste you have, however some items in a kitchen will be classed as hazardous waste, so will need special treatment or disposal. If your waste is hazardous, please get in touch.
Below are some of the typical waste types found in a kitchen and what waste clearance service they would fall under:
Table & Chairs
Paper & Card
Rubble
Old Utensils
Cupboards
Worktops
Plasterboard
Domestic Fridges
Washing Machines
Tables and Chairs
Paper & Card
Rubble
Old Utensils
Cupboards
Work-tops
Plastboard
Hazardous
Asbestos
Paint Tins
Batteries (Lead Acid)
Sodium Lamps
Fluroescent Tube
Consider The Amount Of Waste
Now you know how long your renovation is going to take and the waste types it will generate, you need to consider how much waste there will be. Most waste clearance service companies charge based on the amount of waste you produce, so considering your waste quantities before booking could save you money. Order a service too large, you could end up paying to clear thin air, similarly if you order too small, you could end up paying additional costs for an extra container.
So consider your quantities, it could save you some of that kitchen renovation money.
Make An Inventory
Next up, make an inventory. By this, we mean separating your items into three different categories to make sure nothing is thrown away by accident. Here at SkipHire UK, we recommend the below three categories, we call it DDK:
Items to Dispose
Items to Donate
Items to Keep
Pick A Service
Now the hard parts out of the way, you need to pick a waste clearance service that's best suited to your kitchen renovation.
So, what are the options?
With SkipHire UK you have two options; The Man & Van Waste Clearance Service, or our bread and butter, skip hire. Now you have gone through the above steps, picking the right service for you should be a piece of cake. For a further guide to the sizes available for each service, visit our skip hire and man and van waste clearance service pages.
Our skip hire service the ideal solution if you need to keep waste on-site for a period of time or if the waste is heavy. Most of the skips we offer can be delivered next day with flexible removal.
View All
Our rubbish clearance service is completely flexible, allowing us to collect as much or as little waste as you require, at a date and time of your choice, including the very same day.
View All
Low cost, hassle-free skip hire
Fast and reliable delivery
Swift collection, whenever you're ready
Friendly and helpful customer service