Exploring the environmental impact of pub closures
After such a long period out of action, we got thinking, what environmental impact have the closures had over recent months, if any?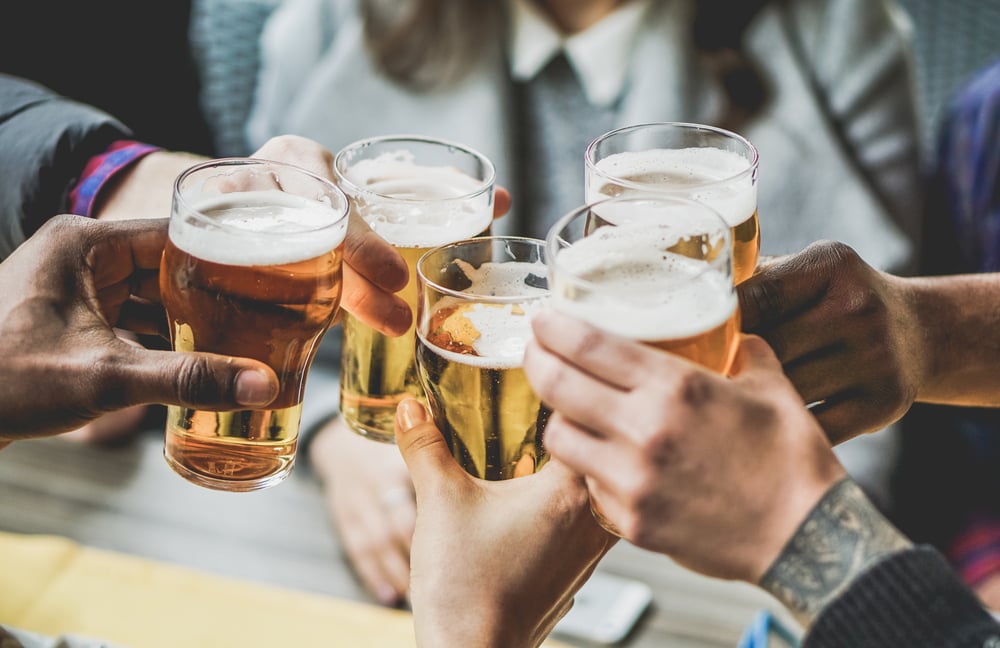 As the pub's reopened their doors to us on July 4th, large numbers of the UK population planned on making up for lost time… and pints. Opening under new social distancing guidelines, the hospitality sector is now back in action and will most definitely be needing regular waste collections again.
After such a long period out of action, we got thinking, what environmental impact have the closures had over recent months, if any? There are many arguments to say it could have been positive, although there are just as many to say negative, depending on the waste stream discussed.
We thought we would investigate the matter a little further, to see just how pubs have been handling their waste during lockdown, and how recycling rates have been affected.
The positives
Let us start with the positives, and explore what materials were not attending the 'local' recycling centres as regularly. One of the most common waste streams found in a typical 'local' tends to be glass, whether it arrives from empty bottles, or broken pint glasses. With less punters drinking bottled drinks, and activity decreasing, naturally pubs are not going to be producing anywhere as much glass waste for recycling. With collections seeing severe disruptions during the period, pubs generating less glass waste is definitely a positive.
Like glass, plastics and cardboard are popular waste streams found in pub waste and have also seen a positive decrease since the closures. With no customers allowed in, pubs were not needing to order supplies, meaning no cardboard or plastic waste was being generated from any packaging.
Food waste is the most common found in the pub sector, so looking into the levels during lockdown will be interesting. Costing the pub sector £357 million a year, it also generates a large amount of 873,800 tonnes of wastage annually, so any reduction during this period was always going to be positive. Although many pubs found themselves throwing out unused food and drink in their closures, a recent survey from Wrap tells us that there was in fact an overall positive impact on food waste management during lockdown. With the pub sector closure not allowing us to go out for a typical 'pub lunch', no food waste was arriving from left over meals.
The negatives
Even with such encouraging statistics, unfortunately there were still some negatives shared in recent weeks. Although pub closures had reduced volumes of waste to be recycled, it seems there are high numbers of food and drink waste items arriving from unusable supplies, like out of date beer.
A recent article from the BBC told us just how much beverage waste has arrived from pubs in Wales, with 'around 2.8 million' pints of beer worth in total, just during the lockdown period alone. Not only does it contribute to waste figures, the pollution poses a very large environmental risk. With such large measurements of beer being thrown away, eventually it all ends up in the Welsh sewers, which has been causing more pollution than usual for Welsh Water. The article highlights just how Welsh Water have struggled to contain the beverage wastage, and even though they are communicating with the pub sector to ensure safe disposal in the future, there is an argument to say lockdown has encouraged the fly-tipping.
Another article from the BBC has highlighted just how much lockdown influenced fly-tipping figures, with recent reports from the Woodland Trust showing a large increase in cases during lockdown. With Wrap and other sources advising the positive reduction in some waste materials, it is disappointing to see the majority ending up dumped instead. Whilst it shouldn't, it seems lockdown has encouraged more fly-tipping cases in the UK, whether it's because of fears of attending a local recycling facility during the pandemic, less regular collections from waste providers, or just a lack of care.
With less activity and travel taking place, the environment was always going to benefit, but just how will coming out of lockdown impact statistics. There is an argument to say post-lockdown statistics will almost counter-act previous ones, as pubs across the UK will be under increased financial pressure to boost production and revenue. With material quantities down, will all businesses be making up for lost time and producing twice as much as they regularly did before? This could be a possibility with the pub sector, especially with most of the nation eager to make up for lost pints.
To summarise…
Although they've been severely missed by the majority of the UK, pub closures have overall had a significant impact on the environment, with more being positive than negative. With common waste materials arriving from pubs decreasing in volume, it's clear to see that less punters tends to mean less waste. Although some of the negatives, like fly-tipping and out-dated beer/food, do suggest that less activity in the pub sector does pose still pose a threat to the environment and pollution levels.
As lockdown begins to lift in the UK, it is going to be interesting to see which way the statistics go, as business activity across the pub sector makes up for lost time. Could annual environmental statistics reveal that post-lockdown drinking just counter-acted the closures? We'll have to wait and see.
Our skip hire service the ideal solution if you need to keep waste on-site for a period of time or if the waste is heavy. Most of the skips we offer can be delivered next day with flexible removal.
View All
Our rubbish clearance service is completely flexible, allowing us to collect as much or as little waste as you require, at a date and time of your choice, including the very same day.
View All
Low cost, hassle-free skip hire
Fast and reliable delivery
Swift collection, whenever you're ready
Friendly and helpful customer service