Keeping Your Cool : Safe and Compliant Fridge Disposal
Disposing of your old fridge and struggling to find a place to start? Follow this quick and easy fridge disposal guide on how to get ridof your fridge safely and legally.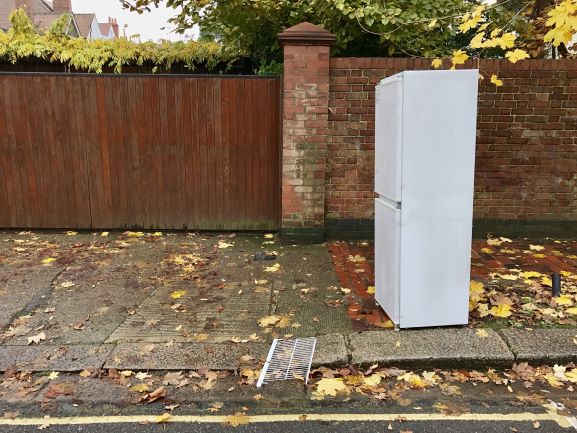 How do I dispose of my fridge?
Fridge freezer disposal doesn't have to be a tricky task. By following this quick and easy guide, we will take some of that stress away.
Unlike other forms of household waste, unfortunately you cannot load your old fridge (or any fridge for that matter) into one of our Skip Hire. Despite the fact you'd probably struggle to lift it, it's also illegal to dispose of fridges in this way. 
There have been several cases of illegally fly-tipped fridges, which can cause harm to public health and the wider environment. Our  blog post on fly-tipping looks in detail at this criminal offence, as well as examples of the potential fines slapped on offenders.
To make sure you don't become part of this statistic, here are some handy advice to consider when handling fridge recycling:
1. Was my fridge made before the year 2000?
The year 2000 was a turning point in domestic fridge production! Prior to this, fridges were home to some pretty nasty substances; the main two being Chlorofluorocarbons (CFCs) and Chlorofluorocarbons (CFCs) Under the Montreal Protocol these substances were phased out by the 2000.
If you think your fridge pre-dates this and may be home to these substances, don't panic, there is still a waste collection for you, we just need to aware. If you are unsure, please call us for more information.
2. Can my fridge be donated or sold?
If your fridge still has life left in it, you can think about donating it to someone instead of booking a recycling service. Your unwanted fridge could be the perfect gift for somebody in need. Have a think, is there a family member or friend member that will make use of your old unwanted fridge?  Alternatively there are many charities that will happily accept it, some of which may even be prepared to collect it.
Another option is selling your old fridge, which you can do via a number of routes online or by placing a classified ad in the local paper.  Like donating your fridge, if it is still in working order, it could be exactly what someone is looking for.
3. Choosing Your disposal service
If your fridge has reached the end of its lifecycle, unfortunately disposal is the only option. As we mentioned before, fridges are not a household item that can be placed in a skip, however there are still legal ways to dispose of them. When choosing a disposal method, there are a couple of options available:
Recycling centres
Probably the cheapest and most popular option is taking your unwanted fridge to your local recycling centre. Although, you must make sure that wherever you are transporting your fridge to will accept it, as not all recycling centres will – especially fridges from before the year 2000.
A low cost alternative to skip hire; our Man & Van waste clearance service lets you sit back and relax, as the SkipHire UK team arrive, collect and dispose of your fridge for you. All we ask is that the team can park within 50 meters of your waste in a safe and free space. This option is for the more urgent clearances, when you want a fast response time and need it gone within the next few days.
Unfortunately, due to them containing hazardous components, fridges aren't covered in our standard collections. However, they can be added for a small additional charge.
Retailer collection
Chances are you will be replacing your old fridge with a brand new one. If this is the case, most retailers will also offer a collection / removal service for your old fridge, however this is often treated
as an additional service, and so will likely incur an extra charge.
Council
Finally, your local council will be able to offer you a collection service for your old fridge, if you are a resident in the area. This is a popular option for many residents, which is why you may find yourself waiting a couple of weeks before a collection date is arranged.
To find out more about your local council and costings, we'd recommend you visit the Gov UK website.
4. Considering disposal compliance
So, now you have decided if you are disposing, donating or selling your fridge, you need to make sure you are doing it legally. Like we touched on, fly-tipping is a criminal offence that comes with serious consequences, so you need to be sure you are not at risk. You can be found guilty of fly-tipping waste even if you're not the one who dumps it, so you need to be sure your disposal method is legal.
Here is a quick checklist to make sure you are complaint:
I have checked that my local recycling treatment facility is a licensed waste transfer station, not an illegal dumping ground

I have checked my waste clearance company has a waste carriers' licence and is taking my fridge to a licensed waste transfer station

I have checked my retailer, who is collecting my old fridge, has a waste carriers' licence and is taking my fridge to a licensed waste transfer station

I have received a waste transfer note (consignment note)  from my waste carrier for the disposal of my fridge.
If you need more information on compliance, give our guide a visit.
5. Sit back and relax
You are now ready to say goodbye to your old fridge and start using that shiny new one, good work.
Our skip hire service the ideal solution if you need to keep waste on-site for a period of time or if the waste is heavy. Most of the skips we offer can be delivered next day with flexible removal.
View All
Our rubbish clearance service is completely flexible, allowing us to collect as much or as little waste as you require, at a date and time of your choice, including the very same day.
View All
Low cost, hassle-free skip hire
Fast and reliable delivery
Swift collection, whenever you're ready
Friendly and helpful customer service