How to dispose of a mattress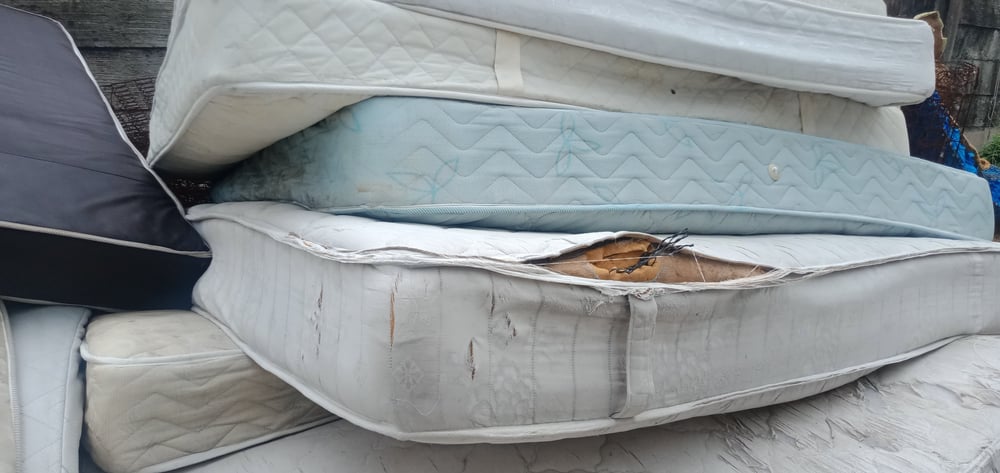 Mattresses typically contain a range of different materials such as metal springs, cotton, hair, foam rubber and heavy cloth. This can make the process of recycling them difficult, as they will typically need breaking down and separating into different waste streams before this is possible.
In a 2019 report produced by Oakdene Hollins, created using results of the National Bed Federation's research, it was revealed that over 7-million mattresses were disposed of in 2017, estimated to have cost a whopping £20 million. Using a survey from Local Authority data, of the 7,260,000 mattress sales made in the UK in 2017, only 1,363,000 were recycled – equal to a very disappointing 19%.
With the National Bed Federation aiming to divert 75% of all mattresses away from landfill by 2028, its clear we have a long way to go to hit that target. That said, if we all pull together, this goal is achievable.
Here are our super-6 disposal tips to help increase the UK's mattress recycling rate:
1.      Sell your mattress
One way to extend the shelf-life of your old mattress is to try and sell it before considering disposal options. Provided it's still in reasonable condition, there may be somebody out there who could find use of your old mattress, potentially saving it from landfill. Multiple platforms are available to sell mattresses on, you could try Facebook Marketplace, or even Ebay.
2.      Donate to charity
Another sustainable option, and one suitable for mattresses still in good reusable condition, is to donate them to charity. There are plenty of charities out there who are willing to accept mattresses, one being the British Heart Foundation. Many charities will even offer to collect your unwanted mattress at no charge.
3.      Consider a take back scheme
Some retailers are now offering take back schemes for their products, something that is likely to become increasingly popular with the introduction of Extended Producer Responsibility. So before considering disposal, see if your retailer will take your old mattress as part of a new purchase. Or investigate which retailers do offer this service before making a purchase.
4.      Offer to family/friends
Like the donation option, you could check in with family and friends to see if anyone can take your old mattress off your hands. This could again help extend its shelf-life, saving any need for it to be disposed of. Before offering to donate your old mattress to a family member or friend, just be sure that it's still usable.
5.      Recycling centres
If your mattress is no longer usable and requires disposal, you can take it to your local recycling centre. Not all recycling centres will take mattresses, so be sure to check before you make the trip there. You will be able to find your nearest recycling centre by visiting the Gov.uk website, here.
If this isn't an option for you, or you don't have access to a mode of transport, you may need to book a waste collection service.
6.      Waste collection
If you are struggling to take your mattress to a local recycling centre and you have exhausted all other alternatives, you can book a 'Man and Van' collection with SkipHire UK.
Our Man and Van collections are ideal for dealing with stockpiled waste and give you the option to add a mattress to your collection load. With 30 minutes of labour included with the collection price, this service offers a great value waste disposal solution, especially for large house clearances.
All Man and Van collections are sourced using a supplier that is local to you, who will collect your waste and take it to the nearest recycling centre. All our suppliers are pre-approved and fully compliant with all relevant environmental legislation.
Book your waste removal today.
Our skip hire service the ideal solution if you need to keep waste on-site for a period of time or if the waste is heavy. Most of the skips we offer can be delivered next day with flexible removal.
View All
Our rubbish clearance service is completely flexible, allowing us to collect as much or as little waste as you require, at a date and time of your choice, including the very same day.
View All
Low cost, hassle-free skip hire
Fast and reliable delivery
Swift collection, whenever you're ready
Friendly and helpful customer service