Top 10 tips to maximise your Spring Clean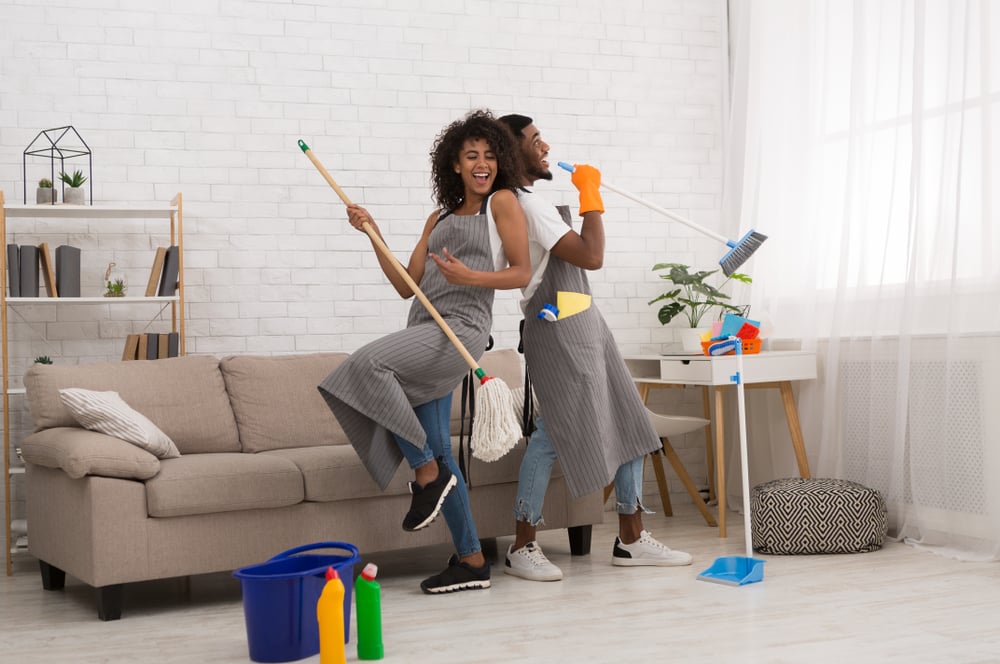 As the evenings brighten and we enjoy the height of Spring, many of us prepare to tackle that dreaded big Spring Clean. A tradition that helps us all get set for summer by cleaning, organising, and decluttering our houses, it can unfortunately cause us stress, whilst increasing household waste volumes drastically too.
In 2020, UK households generated 27.0 million tonnes worth of waste, increasing 2.1% from 2019 (Gov.uk), proving that we need to tackle Spring Cleaning in a more responsible and efficient way. Although this can be a dreaded task for many, including our planet, there are many ways that we believe it can be made more enjoyable, responsible, and fulfilling.
Here are our top 10 tips to benefit you and your planet:
1)     Think about your supplies
And by thinking about your supplies, we mean considering how sustainable your cleaning products really are. As we watch public figures like David Attenborough highlight the damage we're doing to our planet, unfortunately, the cleaner our house gets, the more guilt we feel.
Luckily, there are some creative and sustainable products out there in the market, thanks to some innovative entrepreneurs. One of the great brands to look out for is Smol, whose products have saved 790 tonnes of plastic from entering our oceans so far.
It's not just Smol, there are many options out there. You can view these in a recent article by the Independent: 14 best eco-friendly and natural cleaning products that actually work.
2)     Tackle one room at a time
It might seem simple but tackling one room at a time can make your spring clean a lot less daunting. Think about the priorities in your home and what you need to get done first. Tackling one room at a time can not only remove some of the stress, but will also help focus your mind.
3)     Declutter
One of our favourite words here at SkipHire UK, and something that should be at the forefront of your mind whilst spring cleaning; declutter. It's the perfect time to think about what items in your house you can get rid of, with the majority of those tending to be clothing items.
4)     Consider donating
Whilst decluttering can by fulfilling, it's important to remember the increase in household waste we highlighted earlier. A great way to avoid waste, and one that we believe in strongly, is donating old items. What might be considered waste to you could be valuable to somebody else, especially if the item in question is still in working order. Whether it's clothes, furniture, or kitchen sets, try donating.
5)     Or… consider selling!
Like donating, selling any unwanted items is a great way to extend their usage and prevent waste. No matter what it is you are getting rid of, why not try listing it online to see if anyone else wants it? It's a great way to prevent waste, and you even get some money for it. Sites like Facebook Marketplace or Ebay are good options.
6)     Tackle your kitchen
A great place to start your Spring Clean is in the kitchen, especially the cupboards. Organising kitchen cupboards is something we all put off doing, making your storage busy and messy. Whether it's old pots and pans, or valuables accumulated over the years, why not use this Spring Clean to declutter and organise them? Especially the 'junk cupboard'… we all have one!
Now your cupboards are clean and organised, it's time to tackle the oven. Using some of the eco-friendly cleaning products above, you can give your oven a deep clean this Spring without costing the environment.
7)     Vacuum your furniture
Next up, give your furniture a vacuum. Your furniture is a place that can gather a lot of dust and dirty marks throughout the year, especially if you have pets, so take this opportunity to vacuum.
8)     Prepare the garden for summer
With summer just around the corner, and longer nights ahead, it's a great chance to get your garden in tiptop shape for summer. Garden waste can build up quickly, and before you know it, trimming the hedge turns into a big pile of branches!
If you need assistance with disposing of your garden waste, SkipHire UK's Garden waste removal services are the perfect option. Time to get your garden ready for a red-hot summer (we hope!)
9)     Do it together
A problem shared is a problem halved, so why not tackle your Spring Clean with friends and family? Not only will you get it done quicker, but you might also just enjoy the time together.
10)  Make it fun
Speaking of enjoyment, that brings us to our final tip; make it fun! Why not create a cleaning playlist for everybody to listen to? Good music can brighten up the worst of tasks. Or, if you need to keep the children entertained, why not get them involved and make it into a contest? Finding new ways to make your Spring Clean fun for all the family will benefit you massively.
Our skip hire service the ideal solution if you need to keep waste on-site for a period of time or if the waste is heavy. Most of the skips we offer can be delivered next day with flexible removal.
View All
Our rubbish clearance service is completely flexible, allowing us to collect as much or as little waste as you require, at a date and time of your choice, including the very same day.
View All
Low cost, hassle-free skip hire
Fast and reliable delivery
Swift collection, whenever you're ready
Friendly and helpful customer service