4 Yard Skip
One of the most popular sizes for domestic waste removal projects, 4 yard skips are hired for all kinds of household jobs. To ensure that your home project progresses as it should, you need to make sure that you have a safe and secure location to leave your waste products.
All you need to know about a 4-yard skip
If you're carrying out a domestic refurbishment project, you're going to need a sustainable way to deal with the waste generated. You may find that your work area is becoming cluttered with waste that you are having to moving around, making the project harder than it needs to be. Fear not, SkipHire UK offer a nationwide service which will provide you with a 4 yard 'Midi' skip keep your domestic project tidy.
How much does a 4-yard skip hold?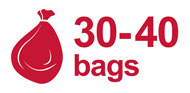 What type of project is a 4-yard skips used for?
4 yard skips are some of the most versatile sizes of skip and are used in most domestic situations which require a waste management solution. Just some of the situations they are extremely useful in include:
Kitchen refurbishments
Bathroom refurbishments
Minor construction projects
Garden redesign
Dimensions
Length 183cm (72") x Width 135cm (53") x Height 92cm (36")
Please Note: all skip and container sizes are approximate and may vary depending on the supplier
Where can it go?
4-yard skips are SkipHire UK's smallest size available for hire, perfect to tackle any access issue you may be up against. The 4 yard skip will fit on most driveways, allowing you to store any waste you may be accumulating from your domestic project. Due to its size, the 4-yard skip is very easy to load waste into, making your project less strenuous.
If you don't have the option of placing your skip on private land, SkipHire UK can assist you in obtaining a temporary permit that will allow you to place your skip on the public highway. Please get in touch today for more help and guidance in acquiring this permit.
Why choose Skip Hire UK?
Low cost, hassle-free skip hire
Fast and reliable delivery
Swift collection, whenever you're ready
Friendly and helpful customer service
You may also be interested in…