Fly-Tipped Waste: Who is responsible?
When it comes to fly tipped waste, do you know just how at risk you are? In this blog we look at what you can do to prevent yourself from becoming front page news.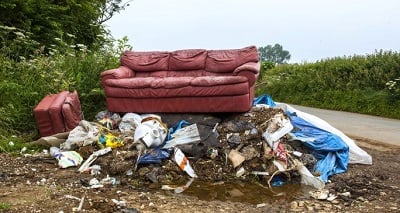 As waste costs have steadily risen over recent years, a direct consequence has been a dramatic increase in incidents of fly-tipping. A common misconception is that incidents of fly-tipping are restricted to rural areas, when in fact we're seeing more and more instances occuring in inner city areas too. When it comes to fly-tipping, do you know just how at risk you are? In this blog we look at what you can do to prevent yourself from becoming front page news.
What is Fly-Tipping?
Keep Britain Tidy defines fly-tipping as "The illegal deposit of any waste onto land that does not have a licence to accept it". This means that fly-tipped waste can be anything, from a single mattress to large amounts of construction waste; if it's dumped on unlicensed land no matter how much of it there is, it's still categorised as fly-tipping.
Is It Illegal?
Yes. It is a serious criminal offence that could see you receive a hefty fine of up to £50,000, as well as the risk of a prison sentences for repeat offenders!
When am I responsible for fly-tipped waste or at risk of prosecution?
If waste is illegally dumped on land that you own
If land that you own is collecting / storing waste without a licence
If waste is yours and has been fly-tipped by a third-party waste carrier
If you have dumped your waste on unlicensed land
If you have dumped someone else's waste on unlicensed land
Fly-Tipping scenarios
Below are recent examples of fly-tipping incidents that resulted in fines and prosecutions:
In this instance, the owner of the waste received a fine of just over £1,000 because the waste carrier he paid to dispose of his waste didn't have a carriers licence and fly-tipped it around the corner rather than taking it to a licensed facility.
The man admitted that that the waste belonged to him, and that he did not check to see if the carrier had a license. The court decided that corners were cut just to save a couple of pounds and that he failed to honour his duty of care for the disposal of the waste.
In this recent example, three men from Hampshire were ordered to collectively pay £3,500 and received suspended prison sentences for dumping waste at an unlicensed location. Instead of taking loads of waste to a registered facility, the men – all of which were from different waste firms – used the site as their own personal dumping ground. It was estimated to have cost approximately £100,000 to remove all the waste and return the site to its original condition.
How To avoid Fly-Tipping
The threat of prosecution may sound scary, but help is available to protect yourself from the threat of fly-tipping. Here are some top tips on how to effectively minimise the risk of fines or other penalties, based on a few hypothetical scenarios:
Waste has been fly-tipped on my land
First thing's first – don't panic. Make sure you report it to Environment Agency as soon as possible.  Remember that you still have responsibility, even if it isn't your waste, as it has been dumped on your land. Fly-tipping is a criminal offence, so it will be treated as a criminal investigation, which you could help solve if you fully cooperate, potentially increasing the chances of finding those responsible.
My waste is being collected by somebody else
Remember, you are still responsible for your waste even after it has been collected. You may have found yourself a cheap waste collection company, but the fines involved will cost you a considerably more if your waste is not disposed of legally. So, before booking with the cheapest removal company you can find, ask them for evidence; Do they have a waste carriers' licence? Where are they taking your waste? Is it a licensed site? Every waste company has an obligation to demonstrate that your waste is being disposed of responsibly. If they can't evidence this then we'd suggest you don't use them.
I'm clearing the waste myself
You may wish to take a more hands-on approach and disposal of your waste yourself.  This is great, but you still need to be careful. When taking this approach, you need to be sure that you are taking your waste to a licensed waste facility. Depending on what you are disposing of, you also need to be sure that you have a waste carriers' licence, something that shows you are able to legally transport waste from one location to another.
Put a Stop to Fly-Tipping
We hope this post has helped you understand fly-tipping a little more. However, if you are after
more information on the matter, give us a call today.
Our skip hire service the ideal solution if you need to keep waste on-site for a period of time or if the waste is heavy. Most of the skips we offer can be delivered next day with flexible removal.
View All
Our rubbish clearance service is completely flexible, allowing us to collect as much or as little waste as you require, at a date and time of your choice, including the very same day.
View All
Low cost, hassle-free skip hire
Fast and reliable delivery
Swift collection, whenever you're ready
Friendly and helpful customer service