Have a Happy Hallowgreen!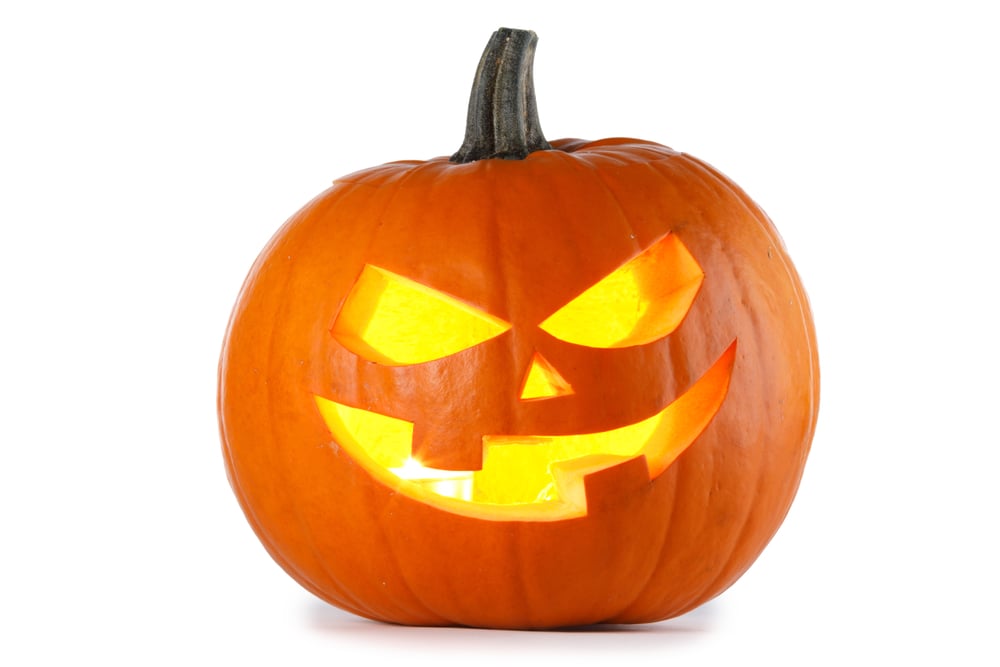 Now the UK's third largest commercial holiday, Halloween is increasing in popularity every year. The annual event is the perfect excuse to throw a party, dress up in spooky costumes, play some scary games, or take part in a spot of trick-or-treating.
As much as we all enjoy Halloween, unfortunately these types of celebrations are often not very sustainable and end up generating additional volumes of waste, much of which is sent to landfill. This waste is predominately made up of old costumes, along with decorations used to make our houses as spooky as can be. Food waste also tends to increase at the same time.
Before we look at ways we can reduce waste, here are some scary statistics which reveal just how problematic this annual tradition has become:
Scary statistics
Plastic waste
One waste stream that is particularly challenging every year, not just at Halloween, is plastic. Single-use plastics continue to be a global problem, with manufacturers, retailers, and other businesses quite rightly under increasing pressure to reduce them. When Halloween arrives, various single-use plastic items fill the shelves of our favourite shops.
In 2019, a survey sent to leading retailer brands, such as ASOS, Next and more, confirmed just how instrumental Halloween has become in contributing to plastic waste volumes. A charity called Family Nature, part of the Fairlyland Trust (supported by Hubbub), estimated that celebrations in the UK alone shockingly generate nearly two thousand tonnes of plastic waste each year, just from costumes and clothing. That's the equivalent weight of 83 million bottles of Coke!
Food waste
Halloween also contributes significantly to food waste, with lots of trick or treating goodies and pumpkins ending up at landfill each year, adding to the 1.3 billion tonnes of food waste that is globally reported as lost or wasted every year. A recent statistic from Hubbub confirms just how significant Halloween is to this annual figure, with 18,000 tonnes of pumpkins in the UK alone sent to landfill every year!
Turning your Halloween green
To put a stop to these worrying trends, it's important that we all do our best to make our Halloween celebrations more environmentally friendly. Here are our 8 top tips to help you lower your waste this Halloween:
Retro costumes
Retro and vintage items of clothing are currently all the rage, so rather than buying a brand-new outfit every year, why not save last years and re-use it? Not only does it save money, but it also stops old costumes from ending up as single-use items. Alternatively, you could get creative and make a new costume yourself, using old or unwanted items of clothing.
Renting
IF you're still after something new to wear this year, consider renting a costume instead of buying one. Not only is the often a cheaper option, its much more sustainable than buying something brand new, wearing it once and throwing it away!
Trick or Treat buckets/bags
Rather than buying new bags/buckets to collect sweets and treats in, why not encourage everyone to rescue last year's items? Or you could get creative and make a collector using left over materials lying around. With the new DEFRA strategy highlighting plastic waste as a key focus point, it's important we do all we can to keep on top of this plastic problem.
Decorations
Halloween is the perfect time to throw a party with friends and family members, and decorations play an important part in creating that spooky atmosphere. Decorations shouldn't have to be single use though; they can be reused every year and still be just as spooky. That way, both costs and waste levels are kept to a minimum.
Make It authentic
Scary decorations don't have to be bought – there are plenty of other opportunities to upcycle. Fallen autumn leaves and branches can make a great spooky setting, or why not use pumpkins as decorations, which can then be used afterwards in cooking or baking.
Segregating spooky waste
When throwing a Halloween party, or attending one, make sure all waste is segregated efficiently for recycling. When segregated, waste is easier to collect and avoids the risk of waste becoming contaminated, for example when mixed in with food waste, which often means it can't be recycled.
Use Your own plates/cutlery
If you're throwing a party, avoid the temptation to buy single-use paper plates, cups, and plastic cutlery. Instead, why not simply use your existing household items and wash them up afterwards?
Reduce your pumpkin waste
With over 40% of the UK's population purchasing pumpkins every year, with an average of 2 purchased per household, pumpkins are one of Halloween's biggest contributors to waste. However, there are many ways you can extend the life of your pumpkin:
Recipes: From soups and pumpkin pie to roasting the seeds, there are plenty of ways to make a tasty treat out of your pumpkin. Websites such as BBC Good Food are full of great ideas.
Composting: If a pumpkin hasn't been eaten, or the remains need to be thrown away, why not consider composting them instead? A whole pumpkin can be composted, it just might need to be cut into smaller segments to make sure it doesn't take too long. It isn't just pumpkins that can go on your compost heap this Halloween, why not throw in the apples from apple bobbing if they're not being eaten?
Happy Halloween
For all your waste management and sustainability needs, Reconomy is here to help. Call us today 0800 834 133 or email us at enquiries@reconomy.com.
Our skip hire service the ideal solution if you need to keep waste on-site for a period of time or if the waste is heavy. Most of the skips we offer can be delivered next day with flexible removal.
View All
Our rubbish clearance service is completely flexible, allowing us to collect as much or as little waste as you require, at a date and time of your choice, including the very same day.
View All
Low cost, hassle-free skip hire
Fast and reliable delivery
Swift collection, whenever you're ready
Friendly and helpful customer service