How to Handle Washing Machine Disposal Responsibly
Don't know where to start when changing your old washing machine? The SkipHire UK Washing Machine Disposal Guide will remove some of that stress for you.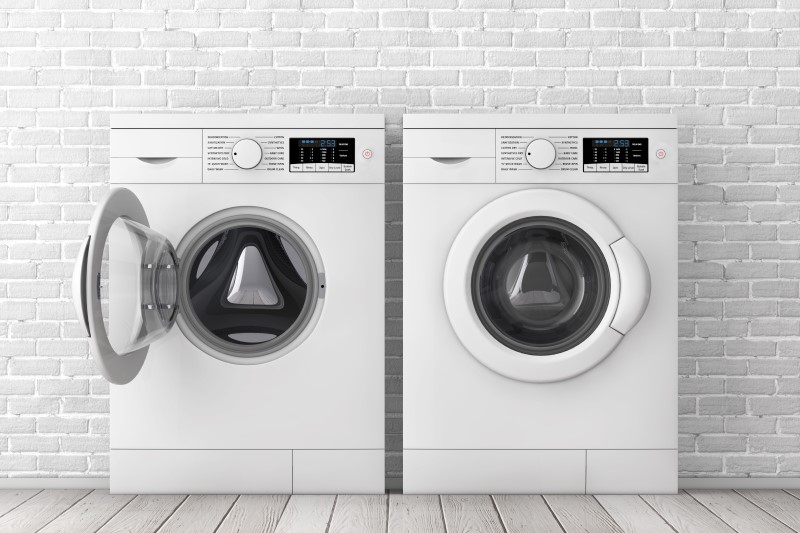 When it comes to disposing of your old washing machine, it shouldn't be a daunting task.  But there are lots of options open to assist washing machine recycling, so our guide will help with some handy recommendations.
Washing machines are classed as hazardous waste, which means they need that little bit of extra attention when it comes to disposing of them.  Whether your washing machine is broken, or it's just outdated and you fancy something new, you need to dispose of it responsibly.
Below we look at the disposal service options for you, whatever the reason for your change is:
My Washing Machine Is Broken
Unfortunately, a broken washing machine cannot just be thrown into one of our skips.  Apart from the fact they are incredible heavy, it's a hazardous item that needs specialist disposal to ensure it's being handled in an eco friendly way. Although it needs some extra attention it should be a nice and simple disposal that is both responsible and cost effective for you.
Recycling Centre
Recycling centres are a simple way to dispose of your old washing machine, you just need to make sure they will accept them.  You can find more information on how to check this here
Recycle Now are also a great source to visit, as their Recycling Locater can help you find your nearest and compliant centre.
Council Collection
If you are a resident in the area, your local council could save you time and effort when it comes to getting rid of your old washing machine. Most local councils will offer a collection and removal service for residents, you just need to be sure the waste you have will be accepted for collection. This is a cost-effective option, however you may find yourself at the end of a long waiting list.
Consider your situation, if you are happy to wait for availability then this could be your option, if you need your waste gone urgently, you may need to reconsider.
You can find your local council here and make your enquiry today.
Man & Van Collection
SkipHire UK may be able to help you dispose of that old washing machine, we just need to be sure it doesn't pose a threat to our clearance crew. Although the waste cannot go in our skip, our Man & Van collection service should do the trick. Click HERE for more information on the service.
Repair
You may think your old washing machine is broken and needs to be changed, but is it really? It may just need some TLC and you may find it still has life left in those old legs, so hold your horses before making the decision to throw it out. You can either contact the retailer the washing machine was purchased from and see if the machine can be repaired, or you can visit somebody else who can help.
I'm Getting A New Washing Machine
To make sure your old washing machine isn't being thrown out too soon, consider the responsible options available when it comes to getting rid of it:
Council Re-Use
Much like the collection option for broken washing machines, your local council may offer a re-use option for old unwanted washing machines. This is like donation, as your local council will arrive and collect your washing machine for somebody else to make use of. 
There are many pros and cons to this method of disposal, one being you may find yourself on the end of a large waiting list, so you an urgent collection might not be available. However, it's a responsible method and makes sure your washing machine is using its full lifespan.
Donation
If your old washing machine is still in working order and has life left in its legs, donation is a responsible option to consider. There are many options when it comes to donating, you can either approach a charity shop, or it could simply be a family member or friend. Charities such as RedCross will accept your old washing machines if they are in full working order, ready for somebody else to make use of and to prevent them ending up in waste.
Retailers
You may find that either the retailer you purchased it from, or one that stocks washing machines, will take it back off your hands. Many retailers out there are now offering solutions to unwanted products, whether it's accepting them and acting as a recycling centre allowing you to part exchange your old item for discount on a new model.
Recycle Now's recycling locator can also help you find a retailer near you that accepts old unwanted items..
To Summarise…
Your old unwanted washing machine may not be waste just yet, so think about what you can do to make use of its full life span. Classing your old washing machine as waste should be a last resort but if you find it is, be responsible and consider our disposal options. If you would like to book one of our Man & Van collections to help with dispose of your old washing machine, click here to get started on your booking!
Our skip hire service the ideal solution if you need to keep waste on-site for a period of time or if the waste is heavy. Most of the skips we offer can be delivered next day with flexible removal.
View All
Our rubbish clearance service is completely flexible, allowing us to collect as much or as little waste as you require, at a date and time of your choice, including the very same day.
View All
Low cost, hassle-free skip hire
Fast and reliable delivery
Swift collection, whenever you're ready
Friendly and helpful customer service