SkipHire UK's Seven Best Lockdown DIY Projects
As the country spent recent months in lockdown, the creative sparks among us have really shined through, especially the builders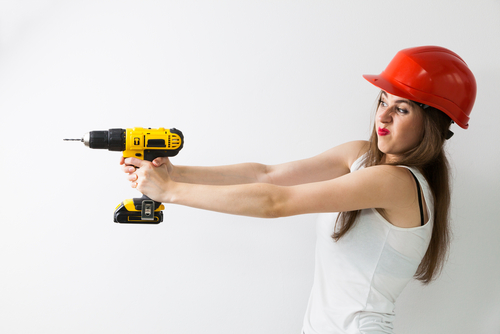 As the country spent recent months in lockdown, the creative sparks among us have really shined through, especially the builders. During the period, we have seen DIY projects of all types, with a study from Aviva telling us that over 85% of UK adults tried their hand at some form of DIY during lockdown. Thankfully, these projects have given most of us some focus and normality in such strange times.
Here at SkipHire UK, we are always interested to find DIY projects that are preventing materials ending up as waste. We have been exploring everything from back garden bars to children's play areas and have found some real masterpieces that have been produced. That is why we thought we'd spend some time reviewing our favourites, and let you appreciate them as much as we do.
Without further ado, here is what made our top seven DIY projects carried out during lockdown:
7) Wilmslow Couple's Back Garden bar (Source: Manchester Evening News)
With many households not quite ready to attend their local under the new guidelines, this couple decided to bring the pub home instead. With a budget of just £500 and all purchased from their local Facebook Marketplace, the couple used old materials to create something brilliant.
Building the pub from old beer pumps and mats received from friends, the fridge was also second hand which is environmentally pleasing. This great effort from the couple using old materials has rightly found its way into our top seven.
6) Jodie Loveridge's Garden Furniture (Source: Metro)
Made entirely out of old and used wooden pallets, this DIY not only reduces waste, it creates it into a beautiful piece of garden furniture. Wooden pallets are a common item we find in our skip hire that eventually end up at local recycling centres, so it's great to see them used more productively.
This project arrives from Jodie Loveridge's garden in Hereford and has transformed waste into an aesthetically pleasing piece of garden furniture where Jodie and her Husband can sit and relax.
Preventing using up old wooden pallets ending up in the local recycling centre, and creating lovely furniture, this project quite rightly sits at number six.
5) Steam Train-themed BBQ (Source: Daily Star)
A welder by trade with a love for DIY, this man decided to create his own steam train in his garden by using up old scrap metal. Finding other uses for old scrap metal can be tricky and isn't always accepted by local recycling facilities. That is why we love this project, because not only does it put less strain on local facilities, this piece of brilliance is a BBQ as well!
Using the pipe of the train to filter out the smoke, the metal holds the heat in and even doubles up as a rotisserie oven.
4) Home Gym (Source: Ideal Home)
With all gyms closing during the lockdown period, it was surprising to see how much exercise levels increased rather than decline. Although exercise has been popular in lockdown, many are still missing the gym… well, apart from this couple!
Using left-over materials and purchasing cost-effective items from B&Q, this looks to be the ultimate home gym to have during lockdown. The windows especially, which arrived from the couple's local scrap yard, and prevent glass recycling figures from going up.
3) Alicia's up styled tyre garden (source: Ideal Home)
Old car tyres are a difficult waste stream for most waste providers to process, so why not find other uses for them? Alicia Mellow, from South Yorkshire, has created this innovative piece of garden furniture using old car tyres and string, and turned them into something brilliant.
This creative design not only minimizes waste from a difficult material, it will give your garden a cost-effective revamp it might need.
2) The Stumble Inn (Source: LadBible)
This is certainly one way to transform an old and disused lambing shed into something brilliant! The 31-year-old man, from Oswestry, has spent the past two years creating his back-garden pub from an old lambing shed, and is now the perfect sheep-free location to enjoy a nice cold pint.
With a landscaping mix of using up old materials and an £8,000 budget, this sustainable creation is loaded with a fully functioning bar and even a smoking area!
1) The Drunken Crab (Source: Modern Met)
A truly outstanding DIY effort that we can all be slightly jealous of, and one person that has not missed the pubs being closed. The Drunken Crab is a piece of DIY brilliance, and one that rightly deserves the number one spot in our top seven.
Not only is the exterior mistakable for a typical 'local', the inside of the pub is identical to most boozers found in the UK. With the interior resembling a traditional pub, there is a set of beer pumps and spirits in the corner bar to complete that pub atmosphere.
What has been your project?
Our top seven are only scratching the surface, and we are interested to find any undiscovered pieces of brilliance created during lockdown. If you have taken up some DIY, or know of somebody who has, please feel free to share your project with us by emailing them into hello@skiphireuk.co.uk
Our skip hire service the ideal solution if you need to keep waste on-site for a period of time or if the waste is heavy. Most of the skips we offer can be delivered next day with flexible removal.
View All
Our rubbish clearance service is completely flexible, allowing us to collect as much or as little waste as you require, at a date and time of your choice, including the very same day.
View All
Low cost, hassle-free skip hire
Fast and reliable delivery
Swift collection, whenever you're ready
Friendly and helpful customer service