The Ultimate TV Disposal Guide
Want to know how to dispose of an old TV? Our ultimate TV Disposal Guide is here to help.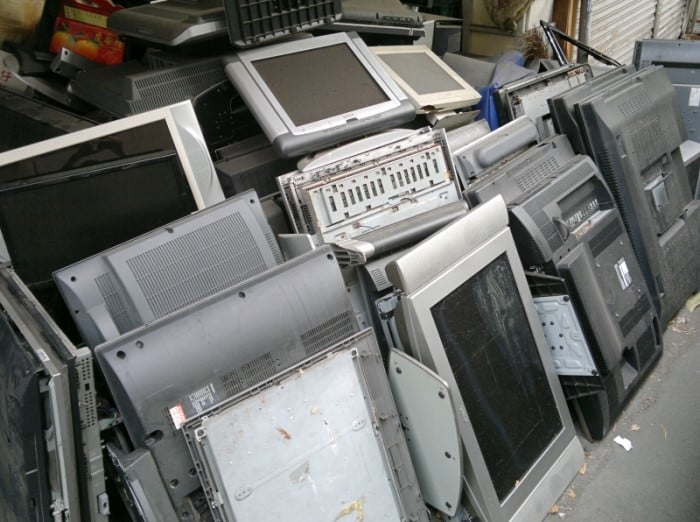 Probably one of the most important items in any household, the TV is often a families most prized possession and the hub of any living room. With technology forever on the rise, popular TV brands are always creating new and improved models for us to buy. Whether it's a larger size, or a smart TV that makes watching your favourite Netflix shows all that bit easier, old TV's are being thrown out more than ever.
How Do I Dispose of An Old TV?
Old TV's belong to the hazardous waste family, meaning it can have a large environmental impact if it isn't disposed of responsibly. Rather than ending up as landfill, old TV's require special attention to ensure they are not damaging the planet. There are many responsible ways to dispose of an old TV, but the first question to ask is, is my old TV still in working order? This is going to determine how best to dispose of it.
Below, we look at the most responsible ways to dispose of both an old working TV and a broken one:
Disposal for A Working TV
If the old tv is still in working order, don't throw it away just yet, think of those who may still find it useful and who it may provide hours of entertainment to.
Below we look at the best disposal options available for an old TV in working condition:
Donation
If you are feeling generous, donation is always an option that will prevent old TV's becoming unnecessary waste. Just because you think a TV is outdated, it might be useful to somebody else, so it's always worth asking if any family or friends need a TV. If that isn't an option, there are always charities out there that would be happy to take it off your hands:
BHF also offer a free collection service, however you'd need to check with the relevant store to make sure they accept WEEE, much like Red Cross.
Retailer Exchange
Many retailers now emphasise  how eco-friendly their products and services are, which has led to offering product exchange services. Many TV retailers now offer customers the chance to exchange old TVs for newer models to make sure they are recycled correctly. This service is often part  of their recycling commitments and to ensure they are meeting their legal obligations. . Many environmental and compliance schemes exist such as those run by environmental experts Valpak by providing simple, innovative solutions for brands looking to improve their environmental compliance and performance.
Samsung have recently launched a similar scheme , where customers can trade in old TV's to contribute towards the buying of a new model. However some exclusions do apply.
Some retailers accept more than just the products they sell, increasing the likelihood of electrical goods, like a TV, to be reused again and again. CEX, a brand built on product exchange, accepts old working TV's for either money or in-store credit.
Re-sale
Selling an old TV is another method that will prevent unnecessary waste… you also get a bit a cash back from it!
There are traditional methods that sell through word and mouth or take the sale online. Using popular websites like E-bay, Gumtree or Facebook Marketplace, you can list old TV's for somebody else to buy, often a FREE service and simple to use.
Disposal for Broken TV's
You may find the old TV isn't fit for any of the above, so it needs to be classed as waste. Unfortunately, you can't load a TV into one of our skips because it's classed as hazardous waste and requires special care when being disposed of.
However, there are still options available. Below we look at the disposal options available broken TV's:
Most councils will offer a collection service for old electrical items, like TV's. This is an option to consider, however, you may find yourself on a large waiting list whilst the old TV is collecting dust. Click the link to find out if your local council can help you by collecting that old TV.
Council Operated Transfer Station
Contacting a local council operated waste transfer station or recycling centre is also a cost effective option. Not all centres will accept old TVs, so be sure to call the local station to make sure before travelling. Once a waste transfer station has your old TV, it will be recycled in an environmentally friendly way, so you can put your feet up and start watching your favourite series on a new TV.
How Can SkipHire UK Help?
If you need a responsible disposal option for your old TV, SkipHire UK can help you. Our Man & Van Clearance Service is a low cost alternative to skip hire that's a great option for responsible TV disposal.
If you're looking for a TV collection service with 30 minutes of labour included, book now!
Our skip hire service the ideal solution if you need to keep waste on-site for a period of time or if the waste is heavy. Most of the skips we offer can be delivered next day with flexible removal.
View All
Our rubbish clearance service is completely flexible, allowing us to collect as much or as little waste as you require, at a date and time of your choice, including the very same day.
View All
Low cost, hassle-free skip hire
Fast and reliable delivery
Swift collection, whenever you're ready
Friendly and helpful customer service