Top Tips for Rubbish Removal in DIY Projects
Want to remove the hassle of waste clearance from your DIY project so you have more time to get the job done?
To help you along the way we have put together our top tips for rubbish removal in DIY projects.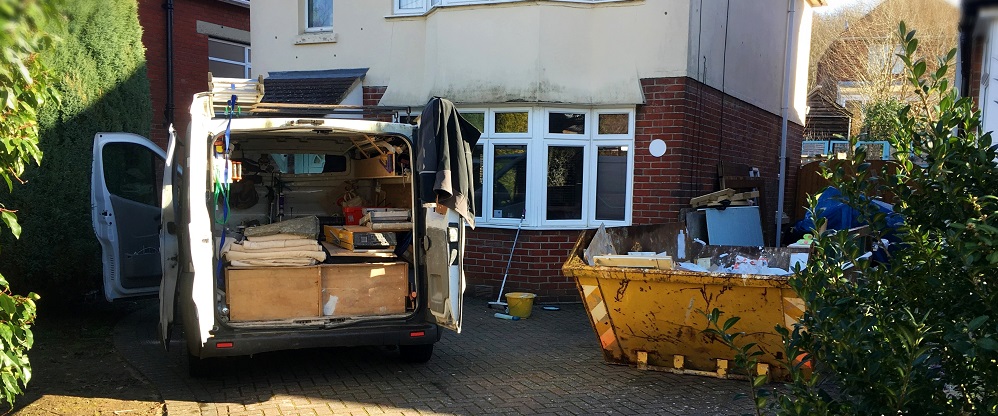 Any DIY project is going to produce waste. From garden clearances to kitchen renovations and dealing with the waste from any DIY can be a bit… well rubbish.
Here at SkipHire UK, we want to remove the hassle of waste clearance from your DIY project so you have more time to get the job done. To help you along the way we have put together our top tips for rubbish removal in DIY projects.
Every year, the UK throws away just over 27 million tonnes of waste from home improvements. That's the same weight as 3.8 million male African Elephants!  
To remove the stress of waste and keep DIY hassle-free, we've put together some top tips to consider for rubbish removal in any DIY project, so you can smash your next DIY project: 
Tip 1 – Consider what waste your project may create
The amount of waste DIY creates will depend on the type of project. Firstly, the size of the DIY project indicates how much waste is likely to be produced during work. Secondly, you will have a better idea of what types of waste likely to be met along the way.
All this will help determine if you need a skip hire service for a traditional builders skip or if you can manage to dispose of your waste at your local recycling centre.
Many waste types from typical DIY projects, like leftover paint, empty paint tins and mastic tubes are not suitable for normal waste disposal and need to be disposed of in an environmentally friendly way.
Tip 2 – Consider the size of your DIY project
As we touched on above, knowing the size of a DIY project will give you an idea of how much waste is likely to be produced. Knowing this will give you a head start when planning a responsible rubbish removal, and a better idea of how much waste will need collecting.
For example, a small garden clearance is not going to produce the same amount of waste as a large kitchen or home renovation would. 
If the size of the project is not considered, you could find yourself wasting money by paying for a large service you didn't need! If you're unsure how much waste you have, you can always try the SkipHire UK waste calculator a visit. for a helping hand
Tip 3 – Be Responsible 
When it comes to rubbish clearance from any DIY project, if relying on a third party to dispose of your waste there is always a risk of fly-tipping if it isn't handled correctly.   
In the last year, over one million fly-tipping incidents were handled across the UK – placing a huge burden on your local authority. This figure increased 8% from the previous year, with two thirds supposedly arriving from household waste.
It's likely that most of that waste came from household DIY projects and small construction and demolition waste.
Fly-tipping is a criminal offence and as the waste producer you are legally responsible to ensure it's safe disposal. So it pays to use a reputable company and not always the cheapest!!!
If found guilty, you are at risk of a hefty £50,000 fine, or even a prison sentence! To keep your rubbish removal responsible and to avoid contributing to fly-tipping figures, our post can show you what to look out for. 
Tip 4 – Pick a Suitable Rubbish Removal Service
Now we know the size of the waste and what it's made up of, it's time for the rubbish collection part.
Here at SkipHireUK, we have two cost effective options for rubbish removal: Skip Hire and our Man & Van Waste Clearance. Here, we look at the services and the DIY projects most suitable for each:
For a low cost and hassle-free approach to DIY rubbish and waste removal, skip hire is certainly an option to consider! From skip hire in Birmingham to London, it's the perfect option for storage and for bulky waste clearances. 
Our four load sizes will handle most, if not all DIY projects out there:
Man & Van Rubbish Removal 
A low-cost alternative to skip hire and when there's no room for a skip. Our Man & Van Rubbish Removals are simple and effective options for household and commercial waste removal, with 30 minutes of labour included in with the price. Simply book, pour yourself a cuppa and watch our expert team do the rest. 
To summarise… 
When organising rubbish removal in any DIY project, planning is essential. It doesn't matter how large or small the DIY is, you need a plan for clearing the waste. 
Still unsure? 
If you need some more advice on how to deal with waste from your DIY project, you can contact us today on 0845 241 380 or email hello@skiphireuk.co.uk  
Our skip hire service the ideal solution if you need to keep waste on-site for a period of time or if the waste is heavy. Most of the skips we offer can be delivered next day with flexible removal.
View All
Our rubbish clearance service is completely flexible, allowing us to collect as much or as little waste as you require, at a date and time of your choice, including the very same day.
View All
Low cost, hassle-free skip hire
Fast and reliable delivery
Swift collection, whenever you're ready
Friendly and helpful customer service