SkipHire UK's Paint Tin Disposal Guide
A colourful guide to dispoing of your old paint tins sustainably and responsibly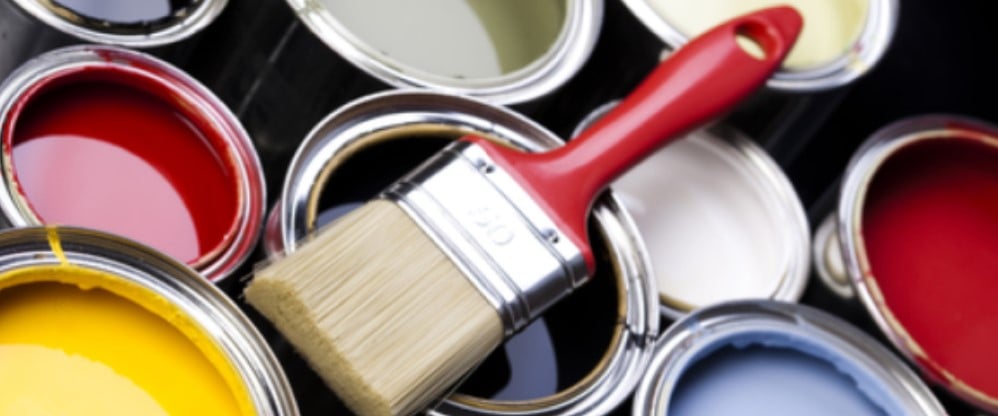 A very common type of waste in most home renovations, yet we all struggle when it comes to disposing of them. We find many customers have leftover paint tins stored away that need clearing out, with many asking, what is the best way to do it? Well unlike other waste types, paint tins come under the hazardous waste group, so they need special treatment when it comes to throwing the old ones out.
This quick and easy to follow guide will answer the questions you have on paint tin recycling, as well as offering some industry expert tips to make sure you are disposing responsibly.
Disposing Of The Paint
When you've finished that DIY project and you are ready to throw out the leftovers, the first step is disposing of the excess paint from your old paint tin. There are many options available when it comes to getting rid of your unused paint, just make sure it isn't poured down the sink. 
Pouring away your unused paint will block your sink and is a major environmental concern, as harmful chemicals in the unused paint may end up in some poor fish's mouth. There are many things to consider before looking through available paint disposal companies, some of which could save you money.
So, here are some of the responsible options available when getting rid of your unused paint:
Donate
Donating unused paint is a great option to consider! It could help somebody finish their DIY project and gets rid of your unwanted paint tins responsibly. Consider donating to one of the following:
Family & Friends
One option available when taking the donation route, is checking to see if any family or friends are about to start some DIY work. If they are and need some paint, you can donate your old tins so the paint isn't just thrown out as waste.
Charities/Community Groups
When donating unused paint, consider charity or community groups as options. There are many charities and community groups out there that would be more than willing to take your old paint tins. A community group like are a great example, where you can donate your old unwanted paint at the drop off point nearest to you, for somebody else to make use of. You can even check to see if your local council has any responsible disposal tips. 
Household waste recycling centres
If the unused paint in your old paint tin is completely out of use, it will need to be taken to a licensed recycling centre to be disposed of responsibly. Bear in mind, the left over paint in the tin will need to harden before you take it to a recycling facility. Most recycling centres will accept paint tins with excess paint in, just make sure by giving your local one a call. You can find out yours by clicking the link.
To make sure the recycling centre your paint tin is being taken to is licensed, please use our waste responsibility guide a visit.
Throwing Out Empty Paint Tins
If you've used all your paint up, or you have disposed of the excess paint separately, next you need to get rid of the tins. When getting rid of empty paint tins, you need to make sure your method of disposal is both responsible and cost effective for you. 
Many people believe that empty paint tins can be thrown in with mixed recycling once emptied, unfortunately they are wrong. Even the empty paint tins are still labelled as hazardous and need special care when throwing them out, to prevent those harmful chemicals ending up as landfill.
To make sure you are handling those empty paint tins responsibly, we have answered the most frequently answered questions for you that surround. Here we look at some of the questions you may need answering when throwing out those empty paint tins:
Can I Put Paint Tins In A Skip?
Unfortunately, your old paint tins can't be loaded into one of our skips. With paint itself now banned from landfill because of the hazardous chemicals, you need to treat paint tins with care when throwing them out. Don't worry, there are still many options available to make sure your paint tins are disposed of in a responsible and safe way.
Are Paint Tins Recyclable?
Yes, old paint tins without any excess liquid paint can be recycled. Most recycling centres in the UK will accept empty paint tins, however you need to be sure they are empty. Call your nearest recycling centre and see if they accept paint tins, if they do, you can then dispose responsibly.
Where Can I Take My Old Paint Tins?
Old paint tins can be taken to your local recycling facility, where they will be handled responsibly and recycled. The majority of recycling centres will accept paint tins, just make sure by giving your local one a call. You also need to make sure you specify whether the tin has any paint left over at all, as sometimes this may affect the recycling facility collecting it. You can find out your local recycling facility by clicking the link. 
So, next time you need to throw out your old paint tins, whether you've got paint left over or not, you now know how to do it responsibly!
Thanks for reading, for another helpful guide like this one, visit our duty of care guide for skip hire.
Our skip hire service the ideal solution if you need to keep waste on-site for a period of time or if the waste is heavy. Most of the skips we offer can be delivered next day with flexible removal.
View All
Our rubbish clearance service is completely flexible, allowing us to collect as much or as little waste as you require, at a date and time of your choice, including the very same day.
View All
Low cost, hassle-free skip hire
Fast and reliable delivery
Swift collection, whenever you're ready
Friendly and helpful customer service